Blocks of Continuality
| | | |
| --- | --- | --- |
| | role: | 3D production management, brainwave installation operation |
| | team: | 20+ members (choreographer, dancers, musicians, programmers, 3D artists, theater production) |
| | time: | 1 year |
| | tech: | Max/MSP, Wii remotes, Maya, 3D Studio Max |
| | platforms: | Theater |
| | date: | March 2010 |
Description

Blocks of Continuality/Body, Image, and Algorithm is an experimental dance work performed at Dance Theater Workshop in NYC, MANCC in Tallahassee, and Columbia College of Chicago's dance stage in Chicago.

My responsibilities were many including...
• Managing a team of 5+ international 3D artist to produce character and environmental art for the project
• Researching technologies that brought the director's vision to fruition
• Writing and revising grant proposals
• Performing live by running the brainwave installation, a machine that took alpha-waves from a meditating musician and caused a mallet to hit the wall of the theater to make music

The work consists of three parts.
Part 1, Movement Research, explores the Live Processing technique.
Part 2, Technical Break and Calibration, exposes the technology behind Part 3.
Part 3, Slum, the dancers use their movements from Part 1 to interact with 3D avatars in a virtual world while a musician meditates, his brain waves tapping the wall of Dance Theater Workshop.


Awards

• President's Award to Koosil-ja, the director of the project, from Lower Manhattan Cultural Center 2011


Images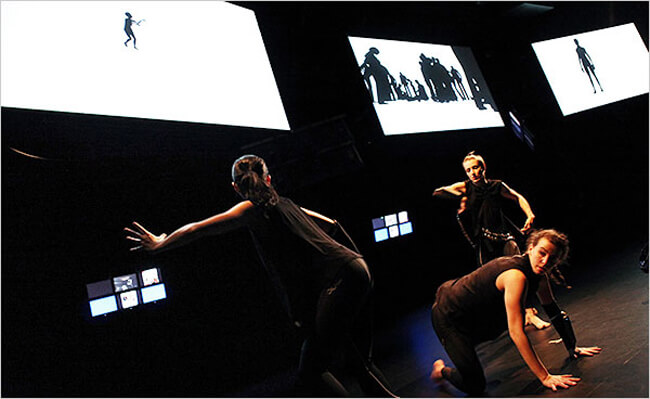 Watch a demo reel